It isnt always easy to choose a garment without seeing it or trying it on so to help you decide here are some answers to questions that I am often asked:
Q. How do I know whether a nightdress will fit me?
A. When choosing a nightdress it is more important to consider the size of your bust than that of your waist and hips. Most nightdresses fall from the bodice gaining fullness towards the hem so your waist and hips will automatically be given more room in the fabric. Remember that a pure cotton nightdress is not stretchy and you will want enough room across the bust/back to feel comfortable so choose a size that is going to give a little extra room than you would in a day dress.
Q. I'm buying this nightdress as a gift what if the recipient doesn't like it or it doesn't fit?
A. Everything you buy from Victoria Goss is covered by my personal guarantee to refund or exchange if it is not right for you or someone you have bought it as a gift for. Just drop me an email to let me know you are sending it back and if you would like a different size or style or a refund, pack it up and return it to the address shown on the delivery note and I will arrange this for you.
Q. I have reduced mobility in my shoulders, do you have any nightwear that would be easier for me to put on?
A. Nightshirts or pyjamas that button right down the front might be an option for you but if a nightdress is your favourite garment to sleep in then I would suggest choosing one that opens deeply at the front such as Eleanor or Emily by Damask. If buttons are difficult the dressing gowns all have simple sash belts so these might be helpful too.
.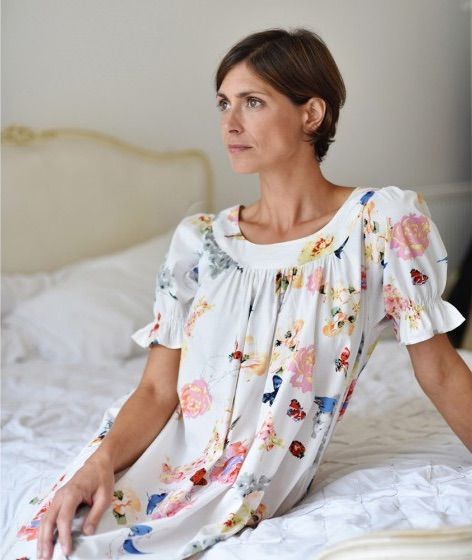 Q. Will I have to iron my nightdress?
A. Ironing your nightdress will add that little extra special, luxurious feel to putting it on for the first time after washing but if ironing is not your favourite thing then hanging it to dry will reduce the crinkles, smoothing it as you fold it to put it away will also help and it will be fine to wear unironed.
Q. How should I wash my dressing gown - will the colours run?
A. Wash your dressing gown on a low temperature cycle using a gentle washing agent and hang it to dry. The colours will stay bright and the fabric will just get softer over time.
Q. How long will it take to receive my order?
A. If you place your order before 11.00am Mon - Fri I will do my best to get it into the mail that day. All orders (except Sale goods) are sent out with Royal Mail via First Class post so should arrive the following day. During the current Covid-19 situation orders may take a little longer, partly because my local Post Office is operating on reduced hours and partly because Royal Mail is handling a greater volume of mail.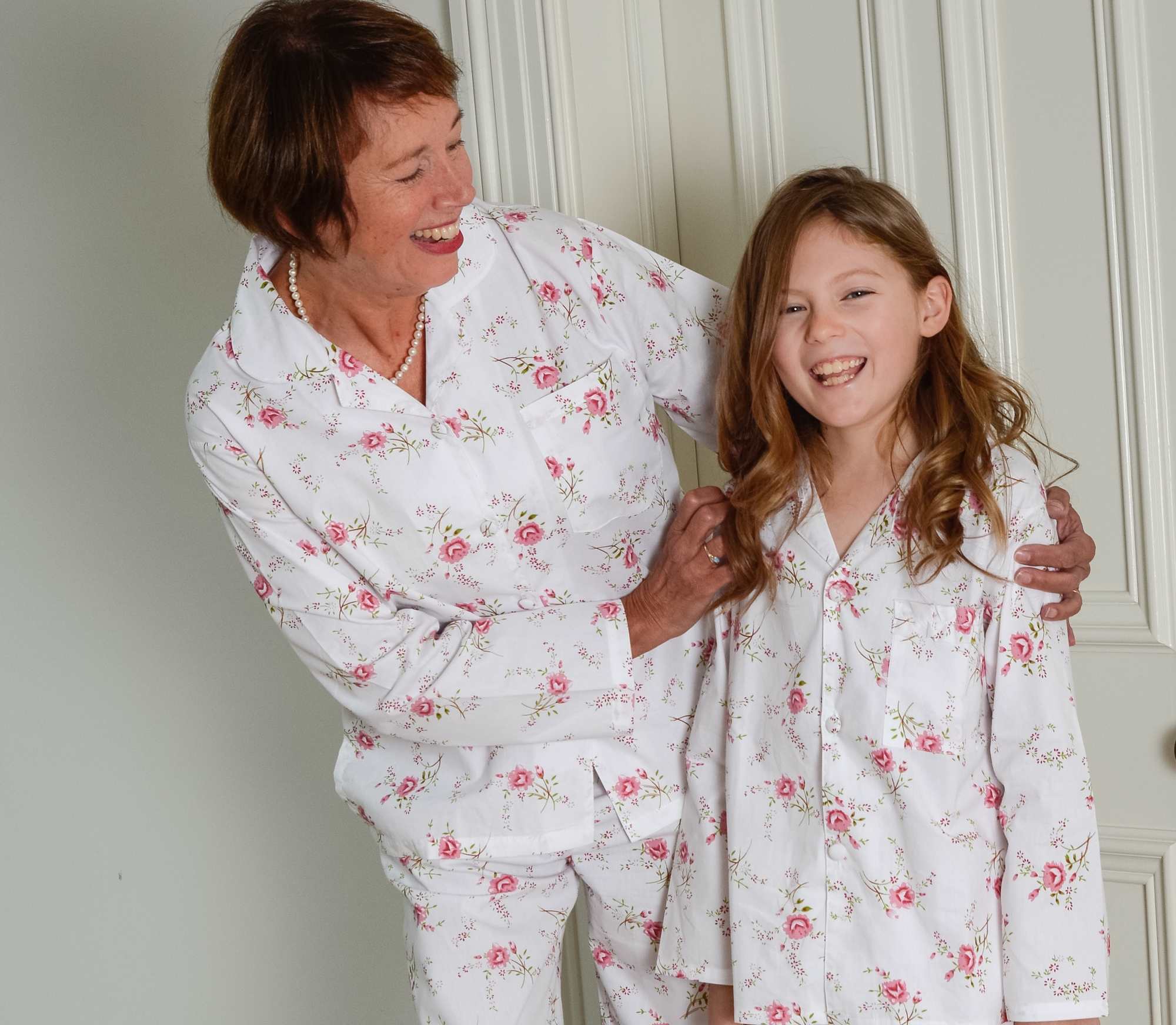 Q. I'm still not certain about which nightdress to choose, can I talk to you about it?
A. Yes, of course, just give me a call on Tel: 01263 860891. I'm always very happy to discuss any of the nightwear with customers and often have first hand experience of wearing it myself.
Q. I'd love to see the nightwear for myself, do you only trade online?
A. During the summer I sometimes have pop-up shops where you can see my cotton nightdresses & dressing gowns - full details of up-coming pop-ups are on the Events page of my website. https://www.victoriagoss.co.uk/events.html
Q. Do you just sell nightwear for women?
A. No, I sell pyjamas and nightdresses for children aged 1 - 12 years too and I also have a selection of other items that make lovely gifts or little treats. https://www.victoriagoss.co.uk/ourshop/cat_1428780-Childrens-Cotton-Nightwear.html
Q. Can you gift wrap my order?
A. Yes, I offer a full gift wrap service (click here for more details) for birthdays, for Christmas or for children at a small extra charge. I also have a selection of greetings cards to complete your present. Orders that are bought as gifts can be sent directly to the recipient with no price shown on the enclosed paperwork.
Q. I have a discount code - how do I redeem it?
A. Choose the item/s you would like to buy then go to your basket to review your order. Click on proceed to checkout. On the next page you will see all the billing information you need to complete and on the right hand side a Summary box at the bottom of which in faint print it asks if you have a discount code, click on this question and a box will come up for you to put your code in, click apply and the cost of your order will be altered automatically by the amount of the discount. You can then complete the order and pay and your goods will soon be on their way to you.