Staycation Nightwear
Posted on
I have to say that I am not really quite ready to think about travelling abroad for a holiday this year - airports and planes are regrettably not yet appealing. I am, however, very much looking forward to exploring an area on the other side of England to where I live. I am going to visit Shropshire!
I am already considering what to take with me to suit our currently very changeable English weather. We are staying in a B&B so I am anticipating that if the weather is not warm or is a bit drizzly the heating will be on in our room so I will need nightwear that will be cool to wear but pretty enough that I feel a little indulged on my holiday.
I think pyjamas will be appropriate but with a short rather than a full length sleeve and at Victoria Goss I think I have found the very pair.
The Humming Bird pyjamas are made of pure fine, black cotton lawn with a colourful, rather exotic print of roses, butterflies and humming birds. They will add a vibrant, tropical feel to my staycation wardrobe which will doubtless also contain more mundane items like a raincoat and umbrella!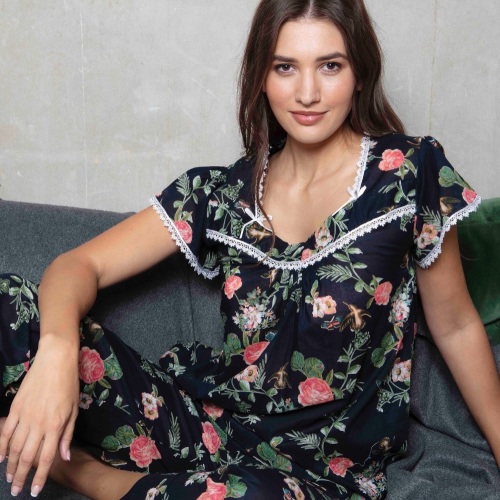 .
Short sleeved with ivory lace trim these pyjamas are glamorous but practical and will be ideal for lounging in our room after a long lazy soak in the tub before bed.
However you choose to take a well-earned break this year I hope that you will find it relaxing and very enjoyable and if you need any pretty holiday nightwear to take away with you do take a look at what is available at Victoria Goss where there are nightdresses, pyjamas, dressing gowns, nightshirts and slippers all waiting to for you to fall in love with.
https://www.victoriagoss.co.uk/ourshop/cat_1428783-Cotton-Nightwear-for-Women.html