How to choose a nightdress as a gift
Posted on
Christmas is almost here and Santa loves to gift a pretty nightdress but nightwear is a very personal choice and it can be quite difficult to choose one that will delight the recipient.
Lets imagine that you want to buy a cotton nightdress as a gift for "Mary", perhaps she has sensitive skin, or lives in a hot climate or maybe she has reached that age where she gets very hot at night. She might be someone you live with or she might be your aunt who lives in Australia. If its the former you will have lots of opportunity to see her current choice of nightdress and can buy something similar but if this is not possible then here are some tips to help you choose the right one:
Consider the fabric of her day clothes first. Does Mary wear synthetic fibre clothes or is she more of a natural fibre person. This will help to determine what fabrics she might like to wear in bed and where you should shop. At Victoria Goss I have a range of lovely cotton nightwear for ladies that may suit her if she likes natural fibre clothes - https://www.victoriagoss.co.uk/ourshop/cat_1428783-Ladies-Nightwear.html
Next look at her dress style. Is she a simple dresser wearing well cut dresses or blouses or is she more flamboyant with a love of ruffles and frills,? Does she like plain coloured clothes or coloured patterns? An elegant style to suit the simple dresser could be Jenny or Nadine. For a fancier choice there is prettily beaded Nora or Rosemary which has the most exquisite hemline, both Eleanor and Cecily have coloured embroidery or there is Nettie for a splash of summer colours.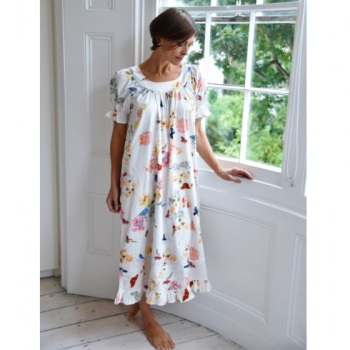 Her height is a consideration too. If she is a tiny lady choose a nightdress with a plain hemline as it can then be shortened if necessary without spoiling the look of the garment. If she is very tall opt for a longer length style like Nadine that will still look right if it is shorter than it is intended to be.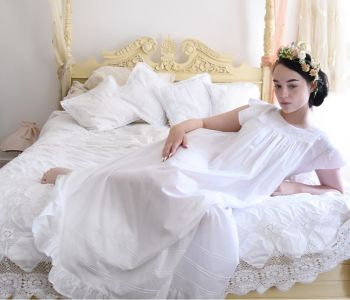 What is Mary's bodyshape? Be sure to choose a cotton nightdress that will give her room to be comfortable in bed as these cotton nightdresses don't stretch but in general always choose one to fit her bust rather than her hips as most of my white cotton nightdresses are intended to be full around the hips.
How old is Mary? Particularly youthful nightdress styles are Helen which comes in blush pink or white & Ava with pretty pink embroidery on the smocked bodice.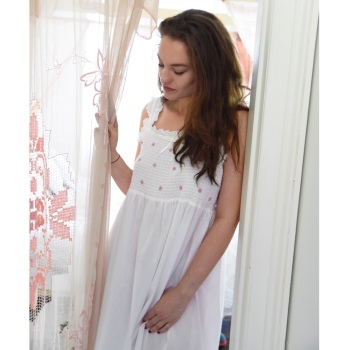 Where do you expect Mary to wear her cotton nightdress? Will she be seen in it - perhaps she has asked for one as she has a hospital admittance coming or maybe she wants to wear one on holiday in that villa she is renting with six friends? If this is the case choose a cotton nightdress that has a little more opacity so that she will not feel embarrassed wearing it - the Powellcraft styles are suitable or Emily by Damask is a fine cotton lawn but very full so will drape and provide modesty by hanging in more than one thickness.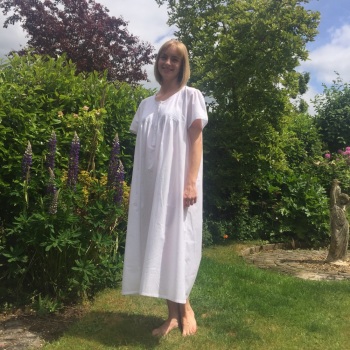 Sleeves are a very personal choice. If Mary is young and has pretty arms by all means choose a sleeveless style like Caty, Naomi or Pink Lizzie. If there is any doubt about this then go for a short sleeve to provide a little more cover - Serena is good or Juliet. If the nightdress is for cooler climes or Mary just likes to wear long sleeves then Barcelona is a good option or for a real winter weight nightdress Ditsy Bouquet is made of a cotton interlock fabric that has been lightly brushed on the inside to provide the ultimate cosy finish.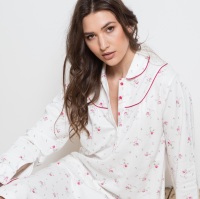 If Mary is fond of red roses, candlelit dinners and romantic novels then Lace Chemise and Margo are both nightdress styles that offer a little bit more Victorian allure. Lace Chemise has beautiful lace shoulder straps that offer a tantalizing glimpse of skin beneath and Margo left undone at the neck has a bohemian touch of wantoness about it.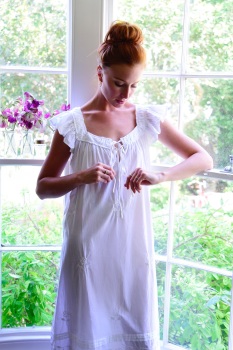 Does Mary have a baby? If she is breastfeeding a little one then choose a style that buttons down the front - Emily or Eleanor would both work well for this or, if a front buttoning nightdress is not a style you like why not look at Chemise, this nightdress has buttons on the shoulders which can be released individually to enable a feed but when baby is weaned it is a pretty style that doesnt look as if it was intended for post natal wear.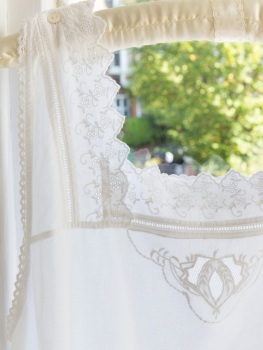 Finally choose your retailer with care. A good stockist will know all their ladies nightdresses and be able to assist you with your choice based on your description of Mary. They will have time to spend helping you choose even if it is on the phone and not in person. They will wrap your gift with care and post it out to you quickly so that you have time to change your mind before Christmas and they will be want Mary to be thrilled with her gift so that if, despite your best efforts, you dont get it right she will be able to return it and exchange it for the style that she prefers without any hassle. All of this is available to you at https://www.victoriagoss.co.uk/ourshop/cat_1428783-Ladies-Nightwear.html

Happy Christmas shopping!